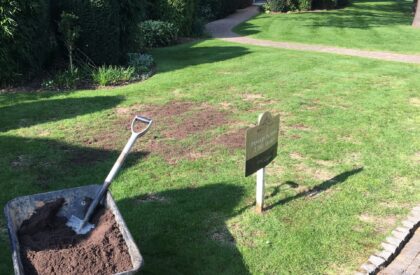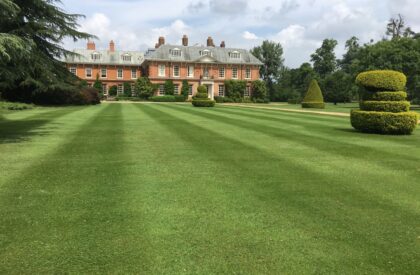 Scarification and aeration techniques will greatly improve your lawns appearance by removing surface "thatch" (a layer of organic matter in the soils surface) which can starve the grass roots of the moisture and oxygen needed to grow healthily.
It will also improve drainage and ease soil compaction, allowing the grass roots to spread and work more efficiently to improve the health of the grass leaf.
Free No Obligation Quotations
Expert Professional Advice
We Are Fully Insured
Licensed Green Waste Carriers
Testimonials and References Available
Mown grass is best kept to a height of between 2.5 and 4 cm. Cutting any shorter than this can stress the grass and lead to the accumulation of moss and weeds
when planting out beds, be it spring , summer or autumn , be cateful not to buy too many plants for the size of your bed. If you place young plants too close together, not all will survive, or if they do , they will need more frequent watering and fertilising. Crowded plants are also more susceptible to disease. Plant labels tell you how much room they need.
Plants are designed to live outside and to draw natural moisture from the earth, without need for daily irrigation ( unless we're experiencing a drought). As a rough guide, poke your fingers about 3 inches into the soil around the plant. If it's very dry , add sone water. The exceptions are container plants which, because there are a lot of them in a finite amount of soil , will need regular watering.
"I have used Cleancut to look after my garden for the past 3 years and I am delighted with the service they offer. It is a huge relief to know that my lawn is being cut and garden maintained on a regular basis, in a friendly, efficient and reliable manner. Any additional seasonal needs such…

Catherine T, (Sawbridgeworth)
"The residents here have an estate comprising of 13 acres divided into formal gardens, formal lawns and parkland. We have employed Cleancut to look after the lawns for 11 years and can highly recommend them. If only more companies were as reliable as Cleancut our lives would be much simpler. They are punctual, hard working…

Mr. B, (Gilston)
"Cleancut  are reliable and hard working. What more can we say."

Mr. & Mrs. J. (Little Hallingbury).
"We have got quite a big piece of land and always dreaded cutting the grass, but then we were recommended Cleancut, and all our prayers were answered. What took us 3 hours to cut, takes Matt/Paul 30 minutes to cut using their John Deere sit on mower (leaving a nice stripped finish). They also cleared…
Tony & Chris. (Hatfield Heath).
"We have had previous gardeners, but they are not as good as these guys, they have done our garden now for 4 years.  Matt and Paul always offer advice when asked, and do a great job!!"

Mark & Lorraine. (Little Hallingbury).
"Cleancut have been looking after our garden for over 9 years now, and we can't fault them. We have over 2 acres of land, and they do the lot. Thanks Paul and Matt."

Mr & Mrs A. Stansted.
Cleancut Garden Maintenance offer a reliable service to :- Harlow, Bishops Stortford, Thorley, Sawbridgeworth, Hatfield Heath, Little Hallingbury, Great Hallingbury, Much Hadham, Hunsdon, Takeley, Stanstead, Stanstead Mountfitchet, Stanstead Abbotts, Sheering, Great Dunmow, Ongar, Brentwood, Epping and many other surrounding areas.
Please phone now for a free quote on 07973 190470 or 07973 190208 or use our contacts page